In the world of finance, an automated trading strategy is a specific and systematic plan developed to help traders and investors make appropriate decisions with a view to generate profit in the markets. It is necessary to consider certain things such as the trading instruments, entry/exit points and money management rules when designing trading strategies. This is because a potentially profitable trading strategy can become opposite due to poor risk management.
Rize Capital has developed a number of flexible trading strategies aimed to help traders and investors trade optimally. One such strategy is the Range Market Scalping Strategy for NinjaTrader 8. In case you are a newbie, NinjaTrader 8 is a trading platform that supports traders/ investors involved in the futures, forex, CFDs, stock markets etc.
Range Market Scalping Strategy : A Fully Automated Trading Strategy
The Range Market Scalping Strategy for NinjaTrader 8 is an automated strategy designed for range-bound markets. A range-bound market is a market characterized by sideways movement. Hence, this strategy is capable of placing automated entry and profit targets, according to a trader's preferred settings. Like most other Rize Capital products, the Range Market Scalping Strategy  is a very versatile strategy that works with any instrument in any financial market.
It is very necessary for traders to have a firm understanding of this strategy because most financial instruments exhibit a sideways movement of over 70% of the time. Mastering its mechanisms will enable you to identify the most optimal settings and entry/exit combinations that will ensure you reap bountifully from your investments.
Features/Benefits of Range Market Scalping Strategy
Pro-level fully automated trading strategy.
Can be used for any instrument in any financial market.
This Range Market Scalping Strategy for NinjaTrader 8 will know when the market is trending and when it is range-bound.
Its underlying principle is to capture those times when the market is ranging, i.e., moving sideways so that traders can utilize it to make the best possible trades.
Includes a 30 days FREE TRIAL.
Access to all future updates and free technical support.
You can enter or exit the market depending on already set (automated) conditions so you don't have to worry about manually placing entry/exit orders.
From the day and time filtering settings option, you can select what day and what times you want this strategy to enter or exit the market.
You can also select the trade quantity of your desire. To help you manage risk, a maximum trade quantity option has been included (as shown below).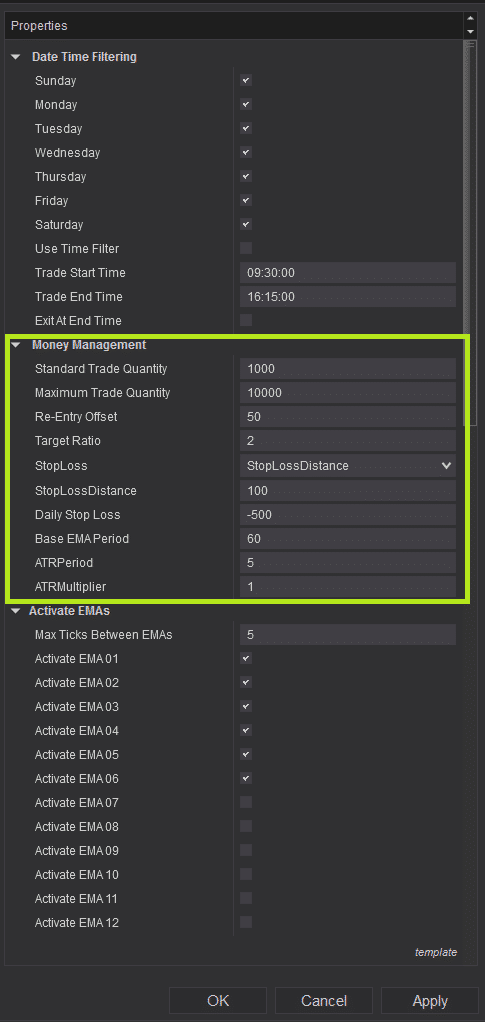 There is also a re-entry option and a target ratio parameter in the settings. Both parameters help to determine the profit target distance from entry.
You can set up Stop Loss via three setup options. Whenever this strategy places an order, it will automatically place a Stop Loss order just to manage your risk according to your stop loss type selection.
There is an option for Daily Stop Loss so if you want to limit daily risk; e.g. if you want the Range Market Scalping Strategy to stop entering more positions after the loss of a certain amount of currency. This implies that this strategy will not place any further orders once the Daily Stop Loss is reached.
12 EMAs are used to determine whether the market is ranging or otherwise; but you can choose how many you want to use to determine that for your settings by checking the boxes beside each of them.
You can cancel your subscription at any time. 
Conclusion
Range Market Scalping Strategy is one of many trading strategies designed by Rize Capital to help traders to make the best use of the ranging market, e.g. by helping them in risk management, entering only in a ranging market only as over 70% of the time most of the instruments are range bound. If you are a trader involved in range-bound markets, then this automated trading strategy should be a compulsory part of your toolkit. Activate your subscription today and enjoy the 30 days FREE trial.
To learn more, including video tutorial and settings, please visit this link: https://rizecap.com/strategy/rcrangemarketscalping-premium-strategy/