Trading in financial markets can be uncertain and risky. This is because investors who do not take cognizance of the various trading strategies usually struggle in the markets. But with the right strategy, trading tends to become less complicated and more rewarding. Trade Entry Strategy for NinjaTrader 8 is one of a variety of trading strategies by Rize Capital.
Trade Entry Strategy for NinjaTrader 8
It is a trading strategy Rize Capital developed mainly for the purpose of more precise trade entries for both long and short-term position building. With the Trade Entry Strategy, traders can execute orders via multiple timeframes, e.g, a trader can decide to trade on a particular time frame but can execute better entries based on lower time frame. It comes with options to select whether the traders wants to build a position for short term or longer term – like the picture below.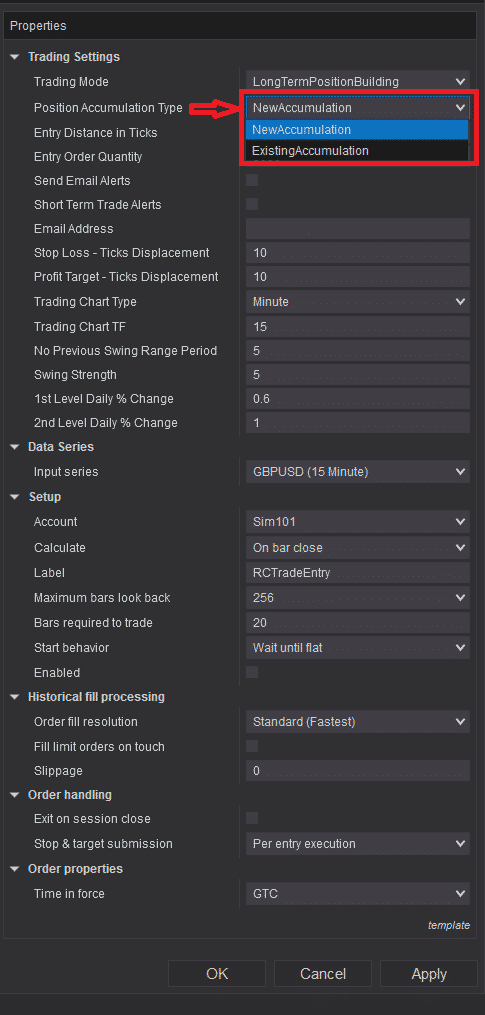 Features/Benefits of the Trade Entry Strategy
30 days FREE TRIAL.
Access to all future updates.
LifeTime technical support.
The Trade Entry Strategy will help you execute orders using multi time frame principle.
Unlike default NinjaTrader 8 showing only the average filled price for the entire position, you can get every execution entry price line plotted on a chart to actually determine where your different orders were executed.
This strategy enables traders use a Day Trader Short term trading mode which is useful during periods of volatility in the market. But if traders want to build a long-term position, you can select that option as well.
As soon as you are ready for an entry, algorithm will try as much as possible to find the best possible price for that entry by waiting to place and repositioning a pending order until a better market price is available.
You choose by clicking buttons whether you want to go Long or Short. Therefore, it is categorized as a semi-automated strategy.
As soon as the pending order is executed, it will automatically disable this strategy by removing the buttons from the chart trader.  If it's a long entry, it will place a green line and if it's a short entry, it will place a red line. At the same time, it will automatically place exactly the same amount of a profit target and a stop loss of the same quantity for your filled position, as per your settings.
All profit targets and Stop loss orders are placed based on swing highs/lows of selected "Trading Chart Type" and "Trading Chart TF".  If you want, you can move them as you wish to find more suitable positions, if needed.
You can still place Long/ Short entries for both new and part of existing Accumulation as you wish.
If you want to receive an email notification, you can simply check the box beside "Send Email Alerts" in strategy settings.
If for any reason, no swing highs or lows are found to place PT and SL orders, it will place SL & PT orders as per the algorithm at a distance so that you can manually adjust them, if necessary.
You can cancel your subscription anytime, if you wish.
Conclusion
Rize Capital's Trade Entry Strategy is a strategy for NinjaTrader 8 developed mainly for more precise trade entries in both long and short-term position building. Like all other trading strategies from Rize Capital, the main aim of this strategy is to ensure that traders get the best out of their trading. Trade Entry Strategy will help you to execute orders using a multi-timeframe principle. Also, as soon as you are ready for a long entry, algorithm will try as much as possible to find the best possible price for an entry. These are just some of the perks that await you when you subscribe to this awesome semi-automated trading strategy. Visit rizecap.com now and start testing it now!
More info is available via this link: https://rizecap.com/strategy/rctradeentry-premium-strategy/