Automated trading strategy Like HA Scalping strategy, there are automated trading systems that may also be known as trading bots, algorithmic trading systems and mechanical trading systems. As they are programmed according to specific rules, these automated trading strategies help traders to guard against emotional traps during trading entries, exits and risk management.
Semi-automated strategies empower experienced traders with partial decision-making capabilities while fully automated strategies are capable of executing all actions on a computer via NinjaTrader 8. It is also possible to work with several strategies simultaneously. This Heikin-Ashi (HA) scalping strategy for NinjaTrader 8 is one of the several fully automated trading strategies available at Rize Capital.
HA Scalping Automated Trading Strategy
This Heikin-Ashi (HA) scalping strategy is an automated trading strategy that is developed by Rize Capital. It's main principles are:
Using Heiken-Ashi bar color changes to determine when to enter or exit the market.
Advanced option to exit position with ATM strategy.
Additional advanced exit option with a Stop Loss and profit target.
This strategy can be used on any time frame chart albeit it is most effective on daily time frame charts. It can be used for both short and long-term trading, depending on the bar time frame used. It can also be used with broad spectrum of financial markets – stocks, foreign exchange, commodities etc.
In a nutshell, the HA Scalping strategy can use HA bar type charts to capture trends and trend reversals with more clarity. It is one tool that can help traders succeed but care must be taken to have a good understanding before trading it with live trading account.
This HA scalping strategy is a subscription-based product that comes with an option of a 30 days free trial. Though this strategy is developed only for Heiken -Ashi bar type, anyone wishing to customize it for using on different bar types can contact Rize Capital through the company's contact page or via email at support@rizecap.com.
Features/Benefits of the HA Scalping Automated Trading Strategy for NinjaTrader 8
30 days FREE TRIAL.
Provides access to all future updates.
Free technical support.
The HA Scalping Strategy works with any instrument and any financial market provided you have Heikin-Ashi bar type on your chart; otherwise, you will see an alert message on your chart like in the image below.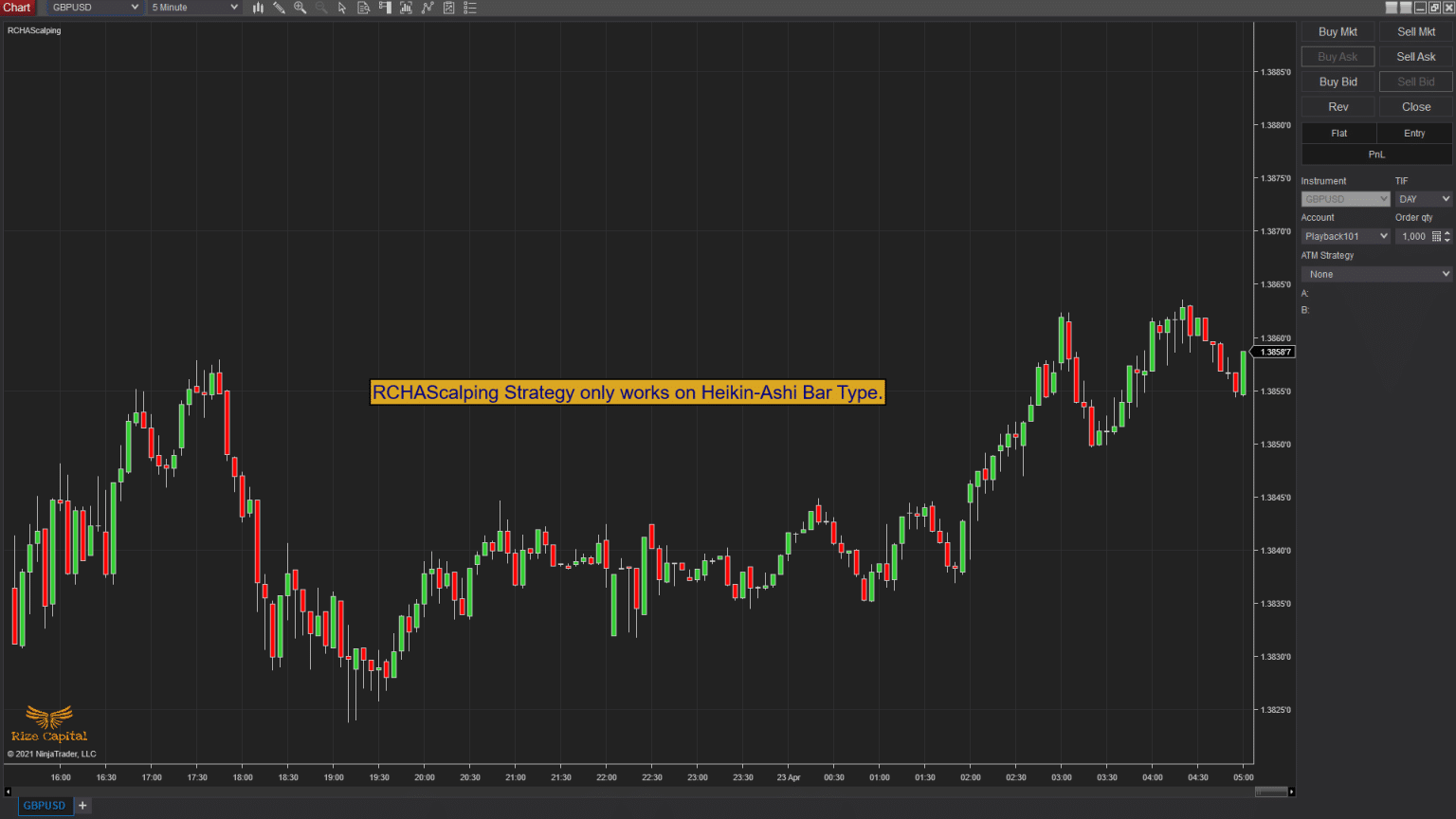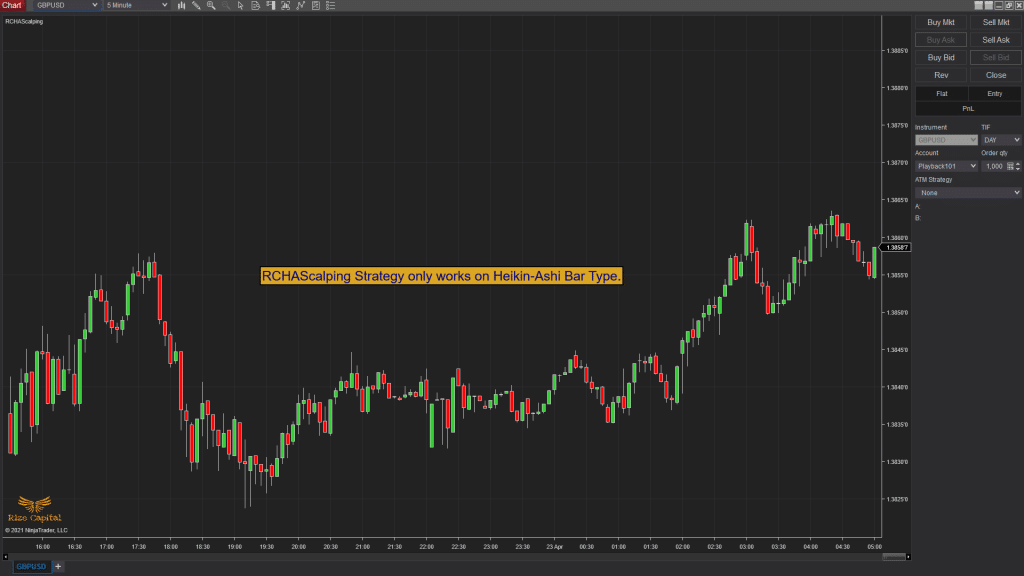 Though it can be used on any time frame chart, data shows that it works best on daily time frame charts.
Besides standard exit option, you get advanced exit options based on "Advanced Exit" options selected in strategy settings.
There are multiple automated trading setups in this strategy. These setup options can be accessed and activated from the settings parameter upon checking "Enable Stop Loss/Profit Target Exit" after which you will have more options to customize your exit strategy.
You can manage trading sessions, days, profit target, stop loss, quantity traded etc from settings.
If maximum daily profit target is hit, it will plot an alert on the chart like the image below; which will automatically reset on next day.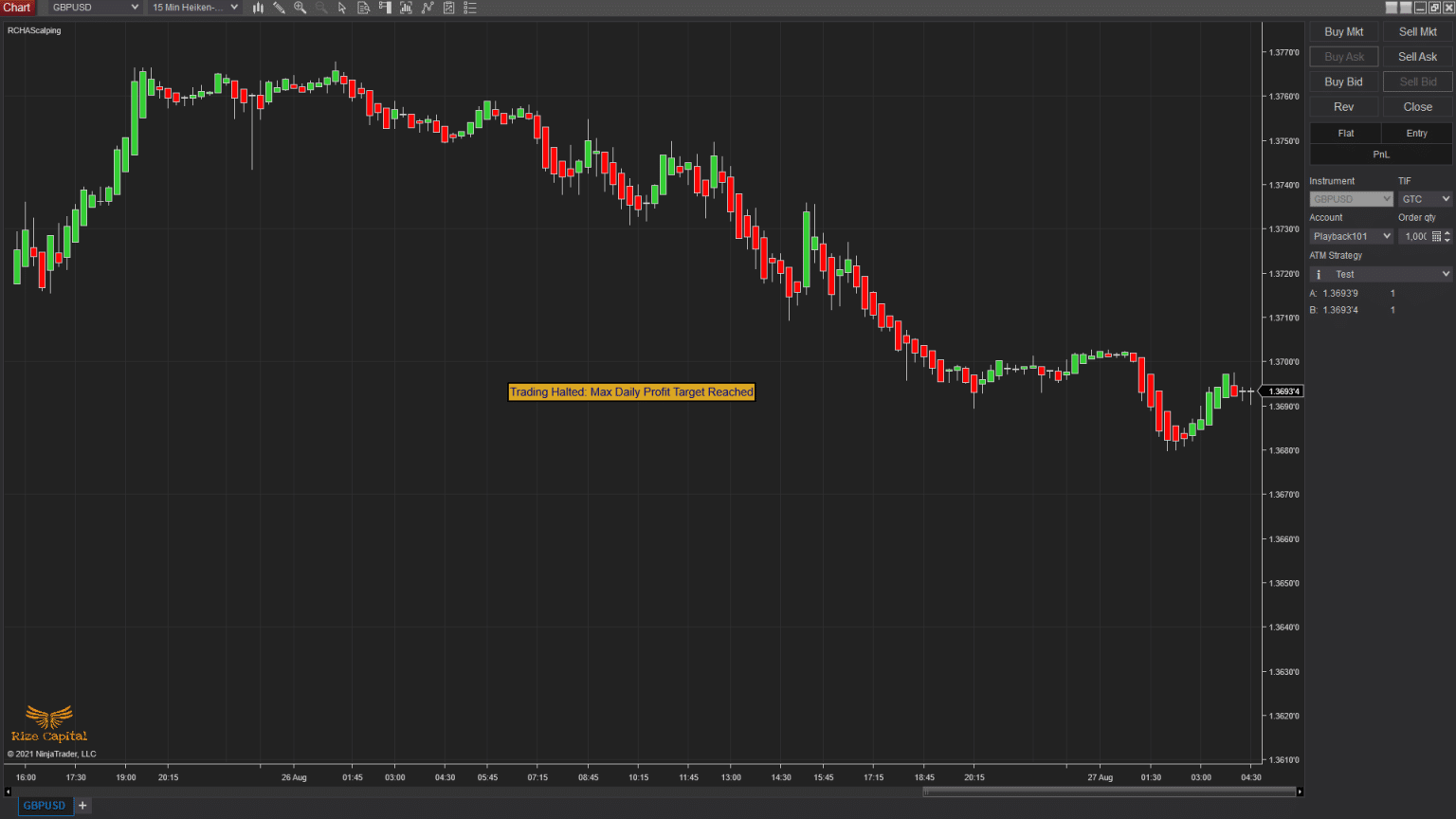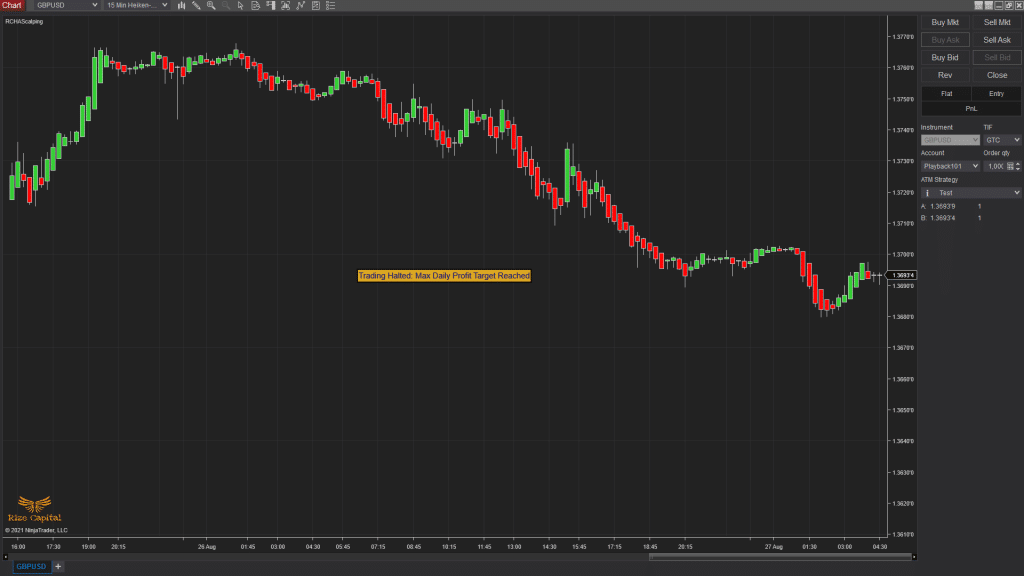 Like profit target, you can set daily stop loss for your trading. If daily stop loss is reaches, you will see an alert plotted on your chart like the below image which will then be reset on next day.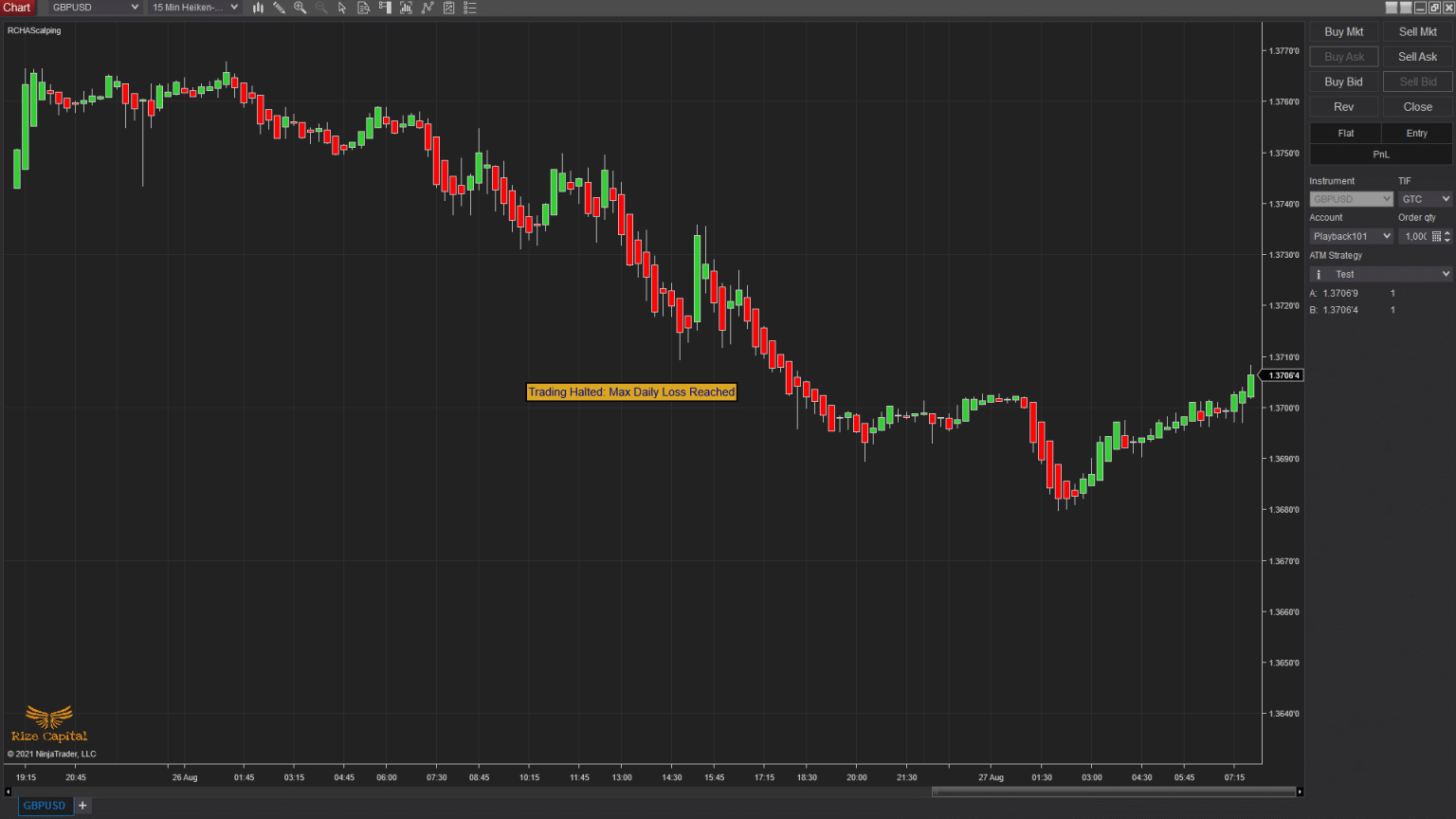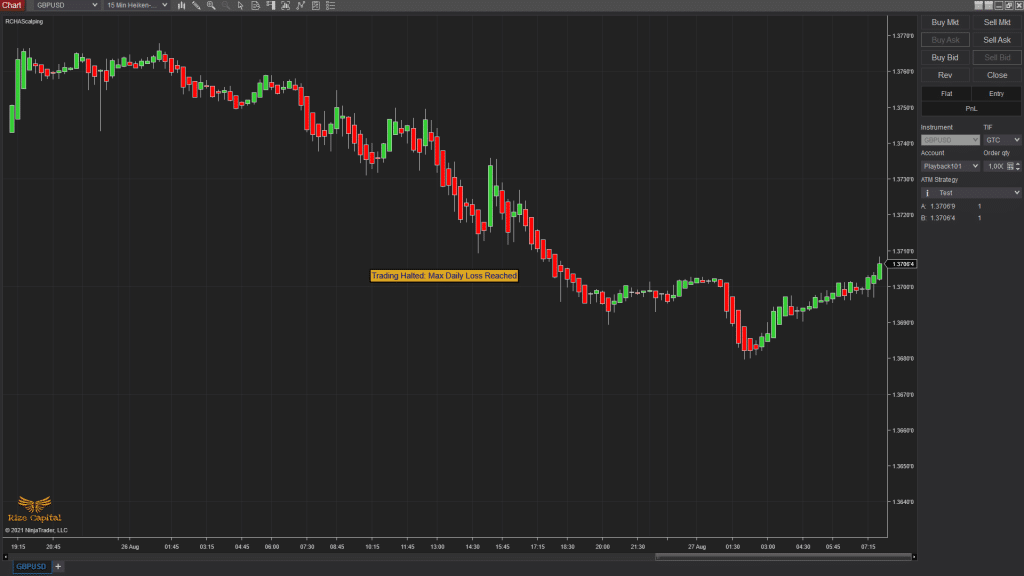 You can also select stop loss type from the settings, as per your goal and trading style.
You can also get email sent to your email address when there is executions in this automated trading strategy. You don't have to sit in front of the computer whole day.
You can cancel your subscription at any time, if you find this strategy doesn't meet you requirements.
Conclusion
The HA Scalping Strategy for NinjaTrader 8 is one of a number of automated trading strategies custom developed by Rize Capital. It is very flexible to meet your needs. Moreover, you PAY NOTHING for your 30 day no-obligation trial period. Also, there is no minimum term, if you don't like it – you can cancel your subscription any time you want. Subscribe NOW and utilize this valuable strategy to maximize your trading profit.
To learn more and subscribe, please visit this link where you will find full details and video tutorial on this automated trading strategy : https://rizecap.com/strategy/rchascalpingstrategy-premium-strategy/