If there is high buy volume, then it is possible that institutional players have placed buy orders for the instrument. This is one of the possible interpretations for Rize Capital's Buy Volume Only FREE Indicator. The Buy Volume Only FREE Indicator is just one of a number of FREE indicators the company has developed to assist various traders to accurately read the market and subsequently act rationally. For example, a trader should be cautious of selling when the buy volume is huge.
What is a Buy Volume Only – FREE Indicator
The Buy Volume Only FREE Indicator is a free-for-lifetime NinjaTrader 8 custom programmed indicator that plots vertical bars on the chart for any instruments to show only the real-time and historical buy volumes in the market. This helps provide better insights about the market and hence can lead to optimal decision making. It was developed by Rize Capital for traders who want to try free versions before subscribing to any premium indicators.
Trading volume seeks to measure the extent to which any particular financial instrument or asset was bought or sold within a specific time frame. For instance, in stock trading, the volume is determined by the number of traded shares. In futures and options trading, volume is calculated through the number of contracts entered into.
Trading volume is therefore a vital technical analysis component because it not only enables traders to know the liquidity situation in the market but also helps them to integrate observed patterns in volume movements with other technical tools to arrive at sound trading decisions.
Note that the Buy Volume Only FREE Indicator captures only the buy-side of trading, unlike the premium version that captures both the buy and sell volumes.
Features/Benefits of the Rize Capital Buy Volume Only FREE Indicator
FREE for lifetime
Saves you money monthly (as it is free)
Access to future updates
24/7 technical support
Gives you an in-depth visualization of how buyers are moving the market
With this free indicator, you can make correct decisions about whether you want to buy or not, e.g., when buyers are not moving the market (i.e., when buy volumes are less)
Now upgraded to include an "Ask" option and an "UpDownTick" option (unlike the previous version)
The Ask option is for instruments that have real-time volume data from exchange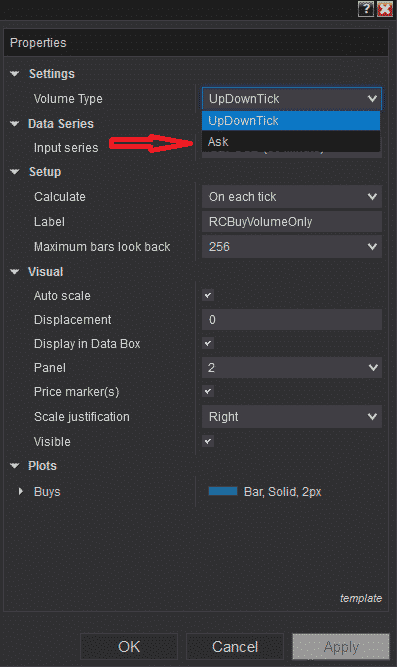 The UpDownTick option is for instruments without real-time volume data, e.g., forex pairs
Needs NinjaTrader 8 LifeTime license subscription to operate
Works only on Intraday time based minute bar types (not compatible with other bar types)
Trying to use the Buy Volume Only FREE Indicator on any time frame chart other than an intraday time frame chart (e.g., with a daily time frame chart or above) will only lead to a message on the indicator panel informing you to use only intraday time frame chart 
Comes with a range of customization capabilities (e.g., plot style, width, dash style, and color settings)
There is usually no high volume trading early in the morning since trade is yet to peak. During periods of high buy volumes, market prices tend to fall. But high buy pressure will stop this downward trend and push prices up. A trader should therefore use the buy volumes and price movements to determine whether to buy or sell
You can unsubscribe at any time without any obligation
How to Download Buy Volume Only FREE – Indicator
You need to first visit Rize Capital's website and sign up for a free account in order to gain login access and then download the Buy Volume Only FREE Indicator.
The sign-up or registration process is simple. After you are registered for FREE account, just enter the required details in the fields provided (see the illustration below) and you'll be seconds away from downloading and enjoying this awesome tool before you finally go for the premium version with extra features.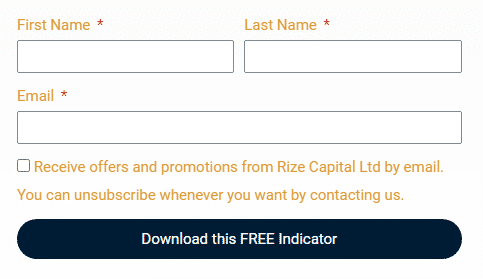 Your free Rize Capital account will not only enable you to download the Buy Volume Only FREE Indicator but will also provide you:
An opportunity to try other FREE indicators by Rize Capital
More knowledge about these indicators which will be helpful when you eventually upgrade to a paid version
Get periodic email notifications about Rize Capital offerings etc
Enjoy free bonuses
A chance to upgrade at any time of your choice
Subscribing to the Buy Volume FREE Indicator automatically makes you a candidate for all future updates as well as 24/7 technical support provided by a proficient Rize Capital customer support team. This is one product you can combine with other Rize Capital indicators for optimal trading outcomes. So there is no need to procrastinate if you wish for the best results. The time to subscribe to a Rize Capital account is NOW!
Other FREE indicators by Rize Capital
To meet the various needs of its diverse clients on the NinjaTrader 8 platform, Rize capital has come up with various quality free indicators. It is hoped that these free indicators will accelerate your desire to go for the premium versions that offer more functionalities and capabilities. Below are the other Rize Capital free indicators that complement the Buy Volume Only FREE Indicator: 
Conclusion
Volume indicators are important components of technical analysis that no serious trader can afford to overlook. Using volume indicators such as the Buy Volume Only FREE Indicator by Rize Capital is very beneficial because it enables traders to determine the buy patterns in the market and subsequently decide on what decisions to take. Moreover, it is a tool that can also be combined with other indicators when necessary.
However, though it is a very effective tool, the Buy Volume Only FREE indicator shows only the buy side of the market. To capture the sell side, you have to upgrade to the premium version of this product. Whether you want a free or paid version, the journey to accessing this very valuable indicator starts by registering for a free account with Rize Capital. Simply navigate to the Rize Capital website now and complete the easy registration process in no time!
More information is available via this link : https://rizecap.com/free-indicator/rcbuyvolumeonly-free-indicator/