Technical analysis is a broad concept that includes the use of various trading indicators which are tools designed to help traders have an in-depth understanding of market signals, trends or patterns. Because of their immense popularity, many forms of trading indicators – including the Daily Change FREE Indicator by Rize Capital have emerged over the years.
Leading and Lagging Indicators
Most of these trading indicators will usually be grouped under the two main classifications – leading indicators and lagging indicators. A leading indicator helps traders to forecast or anticipate future market movements. In contrast, a lagging indicator is one that uses past trends to provide delayed (or lagged) feedback on market momentum. This implies that lagging indicators provide signals on price movements that have either occurred or are presently occurring. Leading indicators are often very quick in their reaction to market prices. This can be advantageous if you are a short-term trader. But sometimes, they can send false signals and the trends they predict can suddenly reverse. So caution is key. Unlike leading indicators, lagging indicators react more slowly to market movements. Though this implies a bit more trading accuracy, depending on lagging indicators can make a trader enter the market late. It follows, therefore, that a good trader should combine both approaches rather than rely on just one.
What is a Daily Change – FREE Indicator
The Daily Change – FREE Indicator is a real-time indicator which is designed mainly for those who trade based on daily market change. It plots daily price change in percentage terms for any instrument in the financial market. It is a custom free for LifeTime indicator developed by Rize Capital for traders to use on the NinjaTrader 8 platform.
Features/Benefits of the Daily Change – Free Indicator
FREE for a lifetime
Saves you money monthly (since it is free)
Access to future updates
24/7 technical support
The Daily Change – FREE Indicator is a simple and effective tool when it comes to making your trading decisions; because if you know how far the market has moved today, then you'll be in a position to make an informed trading or investment decision
It can be used alongside other indicators to determine your trading strategy
A very useful tool for day traders and those that trade on market volatility
When the price change is positive, it plots in green color and in red when negative 
By default, the daily price change figure is plotted at the top right corner of the chart. However, you can change this default location to any of the 4 available options
Possible to customize things like color, font type, size etc
Can be used on any instrument in any market but strictly on an intraday time frame
Cannot be used in daily weekly or longer-term time frames (will show a message)
If you change the instrument, it updates its calculation automatically, to enable you making very quick decisions about your trading and investment when necessary.
You can unsubscribe at any time without any obligation
How to Download the Daily Change – Free Indicator
Downloading and installing the Daily Change – FREE Indicator is simple. All you need to do is go to the Rize Capital website and register for a free account. Your free account is important because, without it, you'll not be granted login access to download and install the Daily Change – FREE Indicator .
The registration process is easy and won't take much of your time. Just provide the required information in the spaces provided (as shown in the image below) and you are ready to commence your download. Remember that while they bring significant value to users, free versions of Rize Capital products are a dress rehearsal for the premium products that offer even more functionality and value.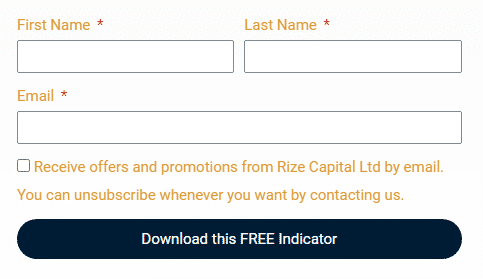 After you have registered for your free Rize Capital account, downloading the Daily Change – FREE Indicator is not the only privilege you'll enjoy. Your free account will as give you:
A chance to assess other free indicators by Rize Capital
Enhanced knowledge about all Rize Capital free indicators that will help prepare you for the premium versions
Constant email notifications about Rize Capital products and services
Free bonuses
An opportunity to upgrade
As soon as your membership is confirmed, you'll then be able to enjoy 24/7 technical support from the very efficient Rize Capital customer care personnel. Not only that, you'll also receive regular updates for your Daily Change – FREE Indicator. So there is no need to continue trading without the necessary tools. Download now and grab a copy of this highly effective tool! You'll highly likely notice a turnaround in your trading fortunes with the Daily Change – FREE Indicator and all the other indicators from Rize Capital.
Other FREE indicators by Rize Capital
Trading markets are dynamic, unpredictable and volatile. These are part of the reasons why Rize Capital has evolved several high-quality free indicators to provide solutions for its teeming clients.  The logic is that these free versions will inspire you to upgrade to premium products that have more features to optimize your trading. So apart from the Daily Change – FREE indicator, other free indicators you can download from Rize Capital include:
Conclusion
Rize Capital's Daily Change – FREE Indicator can be used with NinjaTrader 8 that seeks to provide trading solutions, especially for those whose trade is based on daily market changes. It provides visual depictions of these daily percentage changes for any instrument in any financial market. However, usage is restricted to intraday time frames. It is a highly recommended product that will help optimize your trading strategies.
More info is available via this link: Daily Change – FREE Indicator